When it comes to mixing, there's only so much that can be done with volume faders alone. There comes a point where you need to incorporate some extra functionality in your mixes in order to take them to another level. This article features a list of four effects that do just that. Here are the top effects for mixing:
UTILITY EFFECTS
Utility effects are often used at the beginning of the audio channel strip to do some preliminary adjustments on a signal before it hits the rest of the processing chain. With these processors you can adjust the input gain of a signal, which is very useful to control the headroom of your mix. You can also adjust the amount of stereo width, the balance or pan of the signal, or switch the entire signal to mono, which can be used to define the stereo image of the mix. Utility effects can also be used to invert the signal phase in order to fix faulty takes made with incorrect microphone polarities or achieve special stereo effects. They also include other useful things such as DC switches to filter out DC offsets and extremely low frequencies below the audible range. Overall, with their diverse functionality, utility effects provide a range use cases for mixing.
EQS - THE BREAD AND BUTTER OF MIXING
EQs are the bread and butter of mixing, as they allow for a very precise control of volume in a per frequency basis, which is far more effective in order to achieve cohesive and clean mixes than simply adjusting overall volume levels. There are several types of digital EQs to pick from; the most precise type being the parametric EQ. This type of EQ features a visual representation of the frequency spectrum often accompanied by some form of spectrum analyser that provides very useful feedback on the harmonic content of the signal, allowing us to locate its critical frequencies almost immediately. The frequency display shows a graphical representation of the audible spectrum with frequency values across the X axis and amplitude values across the Y axis. These values are set with several filter nodes called bands that can be dragged around or adjusted through a set of associated parameters: Frequency, used to adjust the band's frequency position, Gain, used to adjust the band's amplitude, and Filter Q, used to adjust the band's width. There are three basic filter modes that can be assigned to each band. These types are: Pass Filter, used to roll out the low and top end of the signal, Shelf Filter, used to apply boosts and cuts to the mid-low and mid-top end of the signal with a fairly wide bandwidth, and Bell Filter, used to apply boosts and cuts to the central frequencies with a broader bandwidth range.
TRANSIENT SHAPERS
Another indispensable effect for mixing, transient shapers are amazing processors capable of modifying the amplitude envelope of audio signals from transient to tail. They can be used to add more punch to the attack of a sound, make their tails shorter and tighter, apply fade-in to a sound dynamically, or give more presence to the body of sustained sounds. The typical transient shaper features two parameters: Attack and Sustain. With positive values, the Attack parameter can be used to make the attack of any given sound more incisive and sharp, allowing short, percussive sounds to cut through the mix like a knife through butter. With negative values, the Attack parameter can attenuate the attack of a sound to the point of making it possible to apply a mild fade-in effect to it. On the other hand, with positive values, the Sustain parameter can boost the overall volume of a sustained sound or increase the length of short ones, whereas with negative values, it can tame or eliminate almost completely the tail of a sound, which can improve our mixes greatly by making them much more clean and clutter free. If EQs are king when it comes to controlling volume at the frequency level, transient shapers are their equivalent at the temporal level, making it possible for all the elements of a mix to be interlocked with each other on a time basis.
COMPRESSORS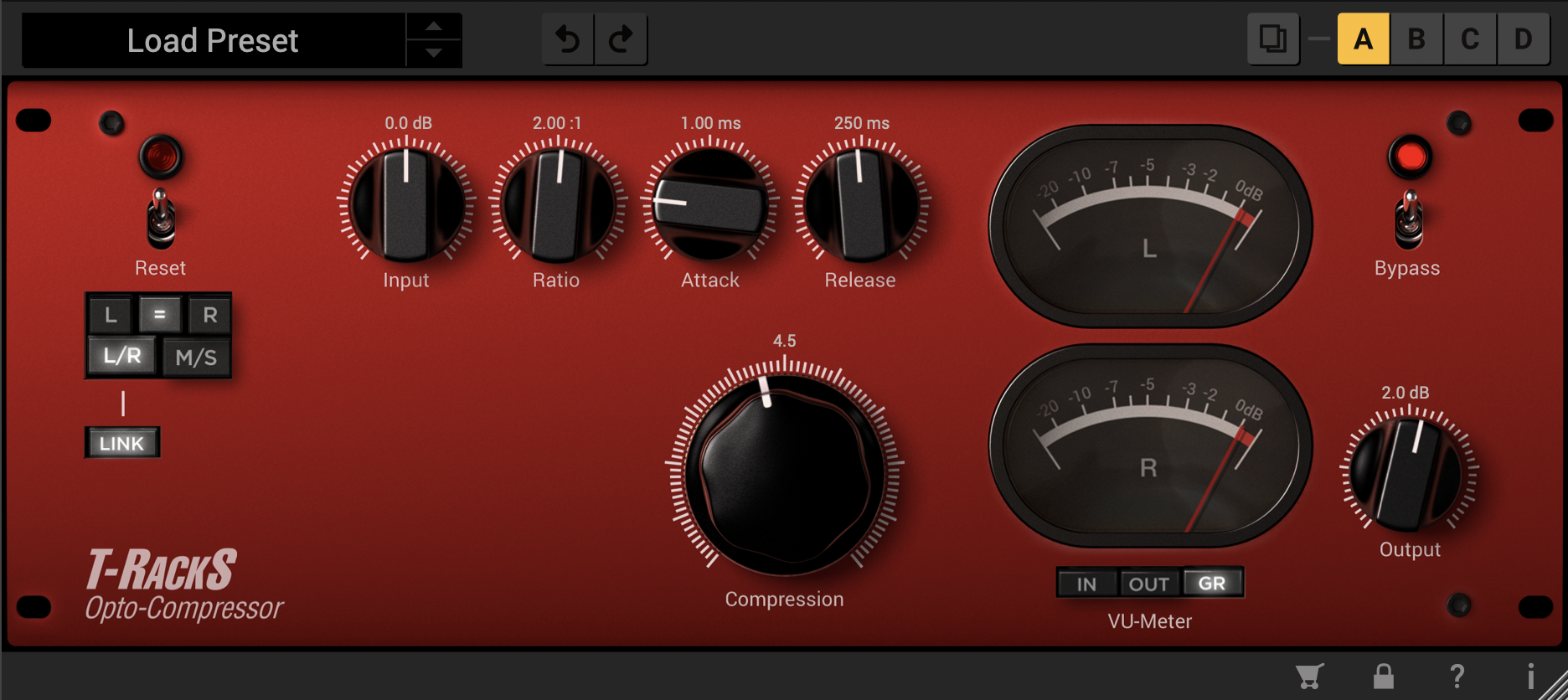 When mixing, the most basic use of a compressor is to dynamically lower the volume of a signal when it hits a predefined level threshold. This feature makes compressors far more transparent and efficient than volume faders when it comes to controlling the level of each track in a mix, as they only affect the peaks that go above the threshold, leaving the rest of the signal untouched. Many compressors also include a feature called Sidechain that uses the input of another signal, instead of a fixed threshold, as a trigger. This feature allows compressors to respond not only to the signal that passes through them, but also to any other signal in the mix, which makes them an invaluable tool when it comes to controlling the levels a mix in an incredibly precise and dynamic way without having to rely too heavily on automation.
4 TOP EFFECTS FOR MIXING OVERVIEW
In this article, we've gone through four effects that can make our mixes much cleaner, punchier and professionally sounding. We have covered Utility effects, which include a set of basic settings designed to fix potential problems on a signal before it enters the processing chain, as well as define some preliminary adjustments to get it to an optimal or desired state before it gets processed further down the line. We've also delved into EQs, which are used to control volume levels in a more precise way through the split of a signal into various frequency bands, as well as to define the tone and harmonic structure of a sound. Then we discovered Transient Shapers and their ability to control the volume envelope of a sound from transient to tail, as well as compressors and their prowess to respond to incoming audio signals in order to maintain more consistent volume levels. Now it's time to
go find a sample
and start building your next track to apply your newfound knowledge regarding these top mixing effects.