In this second part of our list of best plugins for sound design we expand on the names put forward in the first part of the series with a couple of colossal names in the industry followed by a surprising and not so popular newcomer.
Spectrasonics Omnisphere
This virtual instrument developed by Spectrasonics needs no introduction; it is one of the most widely used plugins by professional producers worldwide, and for good reason. One of the major factors of this instrument's success, which also contributes enormously to its prowess as a sound design tool, is its pioneering approach to sound sourcing. Instead of providing the typical small set of wavetables and one-shot samples delivered by most competitors, Omnisphere comes with a gargantuan 64GB library of multi-sample based soundsources expertly mapped to the keyboard that allow you to create an immense variety of musical parts and sound effects right out of the box. Add to this the ability to import your own samples and an impressive multi-level interface capable of handling patches of four independent layers, as well as multis of up to eight different parts, and you have a hands down winner as a self contained sound design solution.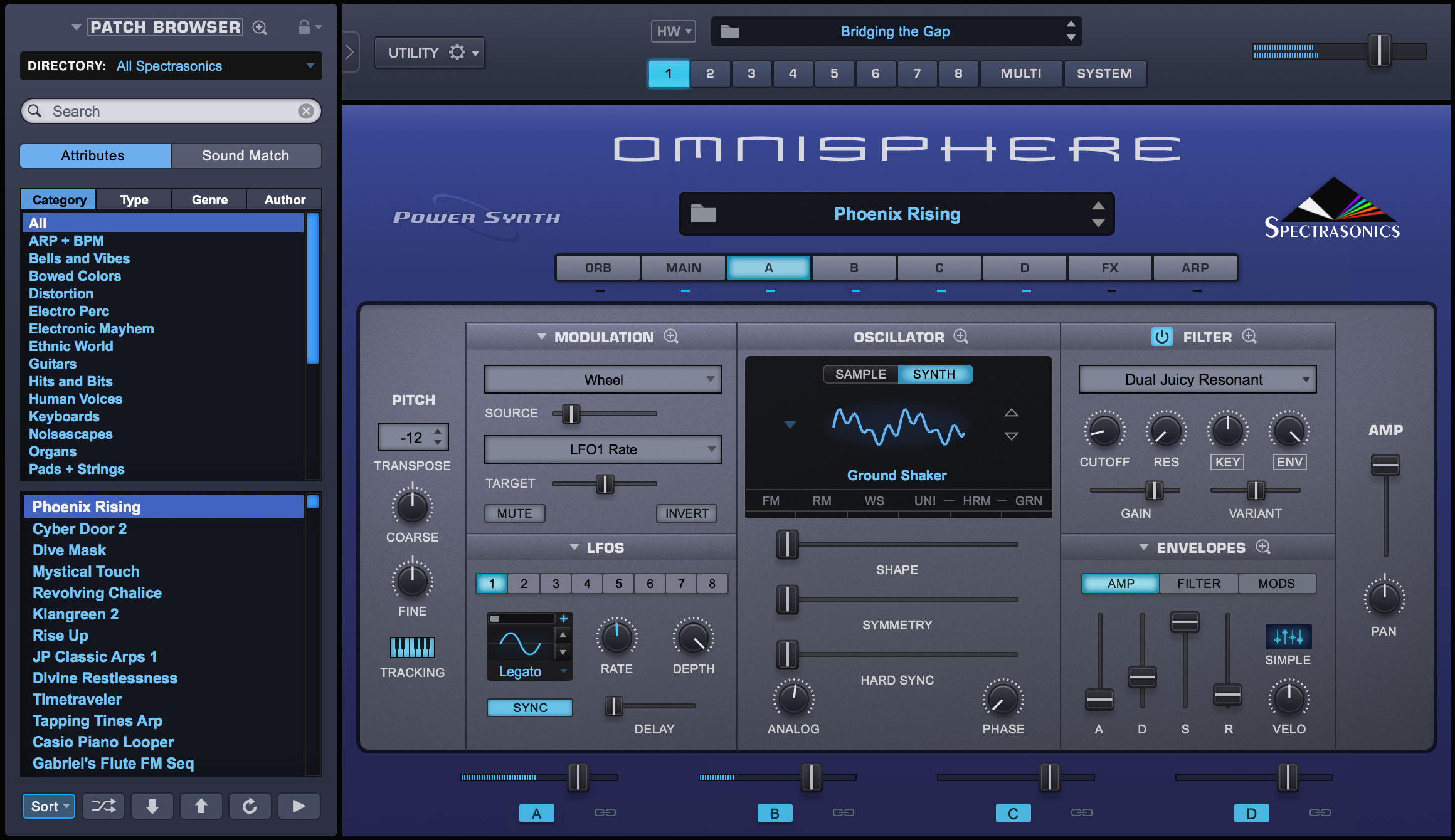 Omnisphere features more than 500 morphing waveforms, a powerful granular synthesis engine, 58 fully modulable fx units, 34 filter algorithms in series or parallel, eight full-featured LFOs per patch with syncing and complex waveforms, twelve envelopes with advanced multi-breakpoint interfaces, sample-based sound sources that can be processed with many synthesis techniques such as FM, granular, morphing and waveshaping, up to 20 oscillators per patch that can be either DSP based or sample-based, and a stack mode interface that allows for complex patch layering, splits, and crossfades.
Native Instruments Kontakt
Kontakt is another giant of the sound design arena that has been around for a long time. This virtual sampler, which has been the standard for software based sampling for more than two decades, has revolutionised the way people build and use sample based instruments with a feature packed engine capable of managing, processing and structuring enormous amounts of samples in a smart and efficient way with the added ability to script and design your own graphical interfaces.
Even though Kontakt's main purpose obviously leans toward the creation of multi-sample based instruments, its merits as a design tool can't be overlooked. With a 55+ GB multi-samples library, plus a dedicated Wavetable synthesis module, you get an ample arsenal of diverse sound sources to work with.
On top of that, Kontak has become the defacto standard when it comes to building and consuming sample based instruments and libraries, with hundreds of third party companies topping each other out on the race to manufacturing ever new and more sophisticated interfaces. Kontakt makes it very easy to drag and drop custom samples into it and map them across the keyboard in order to build your own instruments with powerful editing and settings at both sample and group levels, allowing your samples to be triggered in response to numerous MIDI events, custom UI controls, key and velocity crossfades, round robin, randomisation, and other sophisticated sample switching features that make it the ideal choice for recreating hyper realistic emulations of organic instruments, all the way up to ultra synthetic sound generators and anything in between.
Native Instruments Form
This underrated synthesiser developed by Native Instruments for the Reaktor platform seems like something out of a sci-fi movie or a straight up alien world. Based on an ultra innovative approach to sampling, resynthesis, and audio processing, the things this instrument allows you to do with samples are truly out of this world.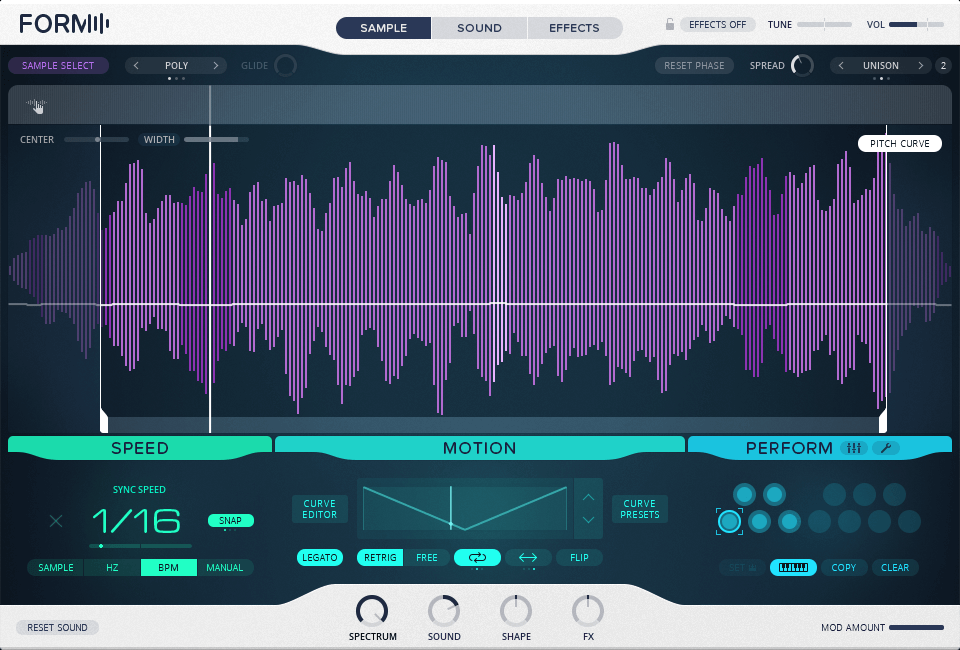 The core of Form's functionality is based on a sample scrubbing engine that puts to rest traditional sample playback modes such as reverse and ping-pong with a graphical interface that makes it possible to define the direction and playback rates of a sample in real time by drawing automation curves and segments straight on the instrument itself, making it an all around solution for advanced turntable like sound manipulation.
The powerful Sound section allows you to sculpt your sound with pitch and formant control independently from playback speed and direction and use an additive oscillator to manipulate the harmonic content. You can contort the sound even further in the OSC FX section, which allows you to add Frequency Modulation, and wave shaping processing and top it off with a powerful modulation and filtering suite expertly geared towards agile editing and playful experimentation.
The comprehensive list of presets that Form ships with is organised into a wide range of categories such as bass, keys, leads, pads, FX, soundscapes, textures, drones and sequences that exhibit the enormous versatility and unique personality of this outstanding, one of a kind sound design tool.
Summary
This wraps up our two parts article on some of the best plugins for sound design. In it we have remarked on some of the features that set these instruments apart from the rest and outlined some of the reasons why they make such a great alternative to more traditional and conventional approaches to sound design.