In this second part of our small list of favourite virtual synths of 2020, we're going to take a look into another pair of synthesisers that are remarkable for their versatility and groundbreaking features.
Pigments
It took Arturia 20 years of experience and research in the field of virtual studio technology to gather all the necessary knowledge to build this marvel of modern software based synthesis. An instrument that combines cutting edge digital sound manipulation and processing with a legacy of classic hardware emulation.
With a dual engine capable of mixing virtual analog and wavetable oscillators with custom samples, this all powerful beast makes it possible to extend the possibilities of software based sound design and live performance way beyond the limits imposed by most virtual synths. With a set of advanced features such as wavetable resynthesis and morphing, spectral processing, granular synthesis, and sample mapping, all easily accessible from an incredibly well designed user interface, Pigments enables a powerful and blazing fast workflow capable of a dazzling array of both classic and ultra modern sounds.
The powerful sample engine allows you to browse across a library of hundreds of samples, import your own, and load them into one of 6 different slots with many different playback modes including random, round robin, and manual sample pick, that allow you to alternate the triggering of up to 6 different samples in multiple ways. On top of that, you can loop, edit, and bring the samples to life with a mighty modulation engine of 24 independent modulation sources that can in turn be side chained with each other for unlimited modulation possibilities.
The granular engine opens up your sound design to another level by transforming samples into granular synth patches with the ability to adjust density, envelope, size, direction, pitch and other advanced parameters like Random Start, Size and Pitch Dispersion as well as Random Stereo and Density Types.
The built-in Arp/Sequencer lets you apply randomness to your Arps and sequences in a non-destructive way, letting you always return back to where you started, and preview new patterns before committing the changes. A whole list of melodic parameters such as pitch, octave, velocity, probability, length, and slide can be randomised with this powerful system, allowing you to create infinite pattern variations on the fly very quickly.
VPS Avenger
Equipped with a set of virtual analog and wavetable oscillator types, as well as a ton of advanced features like sampling and granular synthesis, this impressive synth allows for a wealth of sonic expression and almost unrivaled versatility with a powerful, although slightly crammed UI, that makes the use of a large monitor a necessity.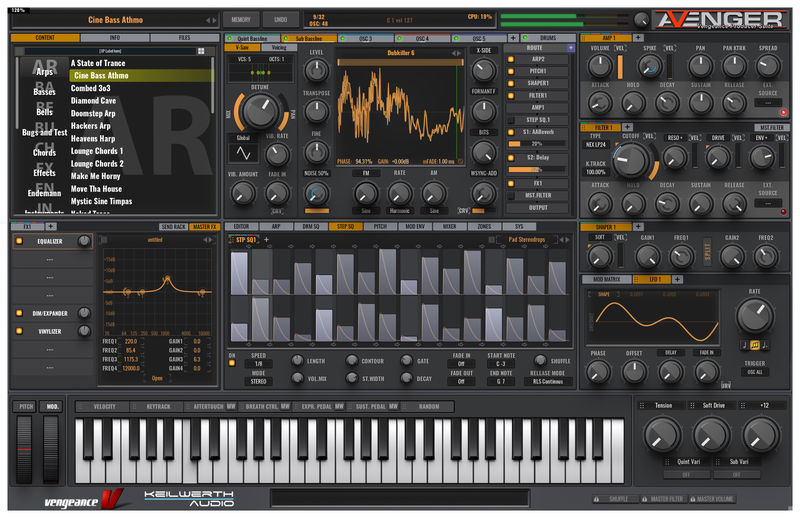 Fitted with an additional layer of sampled drums on top of the virtual analog and wavetable oscillators, Avenger is capable of a vast range of sounds that go from classic hardware emulation to more contemporary tones that can be shaped with a comprehensive control set that includes Volume, Pitch, Pan, Spike, Delay, Low Pass and High Pass Filters, as well as a Multi-Stage envelope and parametric EQ totally modulable from an impressive set of modulation sources such as LFOs, Arps, Step Sequencers, Macros, Multi Stage Envelopes, and Math Operators.
Apart from a comprehensive selection of oscillator modules like V-Saw, Vibrato, Chorder, Note Stacker, Unison, and Sub Oscillator, the oscillators sections features a huge array of Transformation Parameters like Xcite, Formant, Bitcrush, Sync, Volume, Pan, Transpose, Finetune, Random, Alternate Pitch, Noise Generator, FM and AM, FFT Editor, and Randomiser.
The amount of options inside the oscillators section alone is staggering, with up to 11 different types of generators including Classic VA Synthesis, Custom Oscillator Shapes, Freeform Editable Shapes, Wavetable Synthesis, Drum kits, Granular Synthesis, FM Synthesis, Feedback Synthesis, and even a Guitar Player / Chord Detection Module.
The modulation engine consists of 11 different types of modulation sources including Arp, Step Sequencer, Macros, Oscillators, Amp/Filter Envelopes, Pitch Envelope, LFOs, Mod Envelopes, Math, and MIDI that can be routed to every single parameter with drag and drop connections, making it possible to create insanely complex modulation patches.

There are also up to 8 different Arp, Step Sequencer, Mod Envelope, and Pitch Envelope modules as well as up to 4 different Amp, Filter, Shaper, and LFO modules, a drum sequencer, a powerful routing system, up to 6 FX buses, a Wavetable Envelope and Editor, and a ton of other minor features like a mixer, key and velocity zones, support for MIDI pedals, global shuffle for the Arp, the Drum Sequencer and the Step Sequencer, parameter lock, and much more.
On top of all that, the synth comes with more than 750 presets from all genres, a powerful file browser for importing custom drums, multisamples, shapes or wavetables, a tag based search system, resizable window, and real time visual feedback for waveform changes and knob modulations.
Conclusion
Here concludes this series focused on some of the best virtual synths of 2020. In this second part, we have dived into the highlights of yet another two virtual powerhouses loaded with the most advanced features and options for a wide array of uses and applications.