The last decade has seen the growth and consolidation of virtual synths as vital and convenient pieces of sound gear. Not only have they managed to faithfully replicate classic hardware units but also started to develop in directions that exploit the unique advantages, opportunities and strengths of software environments. Here's a list of the most popular and renowned virtual synths that shaped the course of virtual studio technology in the last ten years.
SYLENTH1
Developed by
Lennar Digital
, a Dutch company founded in 2006, Sylenth1 is one of the most popular and best selling virtual synths of the last decade, with a whopping amount of over 1000 soundsets available at our website. Sylenth1 features 4 analog style oscillators with unison capable of generating up to 8 voices per note, which along with its 16 notes of polyphony adds up to a total of 512 voices.
The filter section includes 2 analog modeled 4 stage stereo filters per note with typical analog modes including lowpass, bandpass, and highpass with 12dB to 24dB of attenuation and filter drive.
The modulation section is based on 4 analog style ADSR envelopes and 2 LFOs with 11 different waveforms structured around 16 modulation slots with 24 different modulation targets.
The effects section consists of an analog style arpeggiator and 7 analog modeled audio effects placed at the master level including delay, reverb, chorus, phaser, distortion, EQ and compressor.
Sylenth1 is a great choice if you're looking for an affordable virtual synth capable of accurate classic analog style subtractive synthesis in plugin format.
SPIRE
Spire is a soft synth developed by
Reveal Sound
in 2013 that combines elements from analog and digital synthesizers with a variety of synthesis and filter types, a flexible modulation architecture, and an ample set of insert effects.
Its versatile set of 4 oscillators features seven different modes of wavetable synthesis including Classic, Noise, FM, AMSync, SawPWM, HardFM, and Vowel, as well as a predefined and fixed set of wavetables grouped within 14 categories of resynthesized sounds, including classic analog synths as well as organic instruments, vocals and sound effects at different root notes. The unison engine allows for 9 unison voices on each oscillator with chords and octaves spread modes and different types of unison modes like supersaw and hypersaw.
The filter section includes two keytracked, crossfaded multimode filters with a set of filtering modes named after a set of rather unconventional labels such as Perfecto, Infecto, Acido, Scorpio, Combo, and Shaper, each with a series of different filter types like lowpass, highpass, bandpass, notch, and peak, capable of running in both serial and parallel.
With 4 macros, 4 LFOs, 4 envelopes, 2 step sequencers, an arpeggiator, and a modulation matrix of 15 slots with 2 sources and 4 targets per slot, Spire features a powerful modulation architecture with the rare ability to use its own oscillators as modulation sources.
The effects section contains 4 pairs of inserts including Shaper/Decimator, Phaser/Vowel, Chorus/Flanger, and Delay/Reverb plus a dedicated 3-band parametric EQ.
Spire is a very compact and straight forward synth with a lot of functionalities packed in a smart and sleek UI loaded with some unique features.
MASSIVE
Massive was perhaps the most influential virtual synth of the last decade, managing to become a kind of industry standard for Electronic music and Bass music in particular. Developed by Native Instruments, this synth was one of the first to initiate a departure in terms of UI design from the emulation and mimicking of classic hardware units, introducing never seen before features unique to software based design such as drag and drop modulation assignments.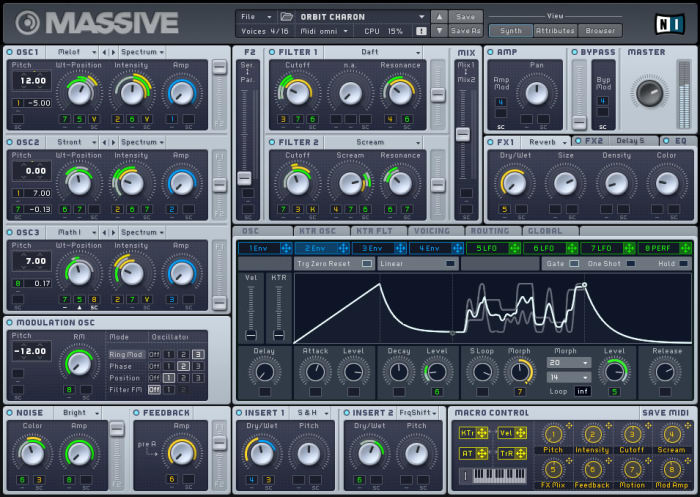 With a hybrid digital/analog approach to sound generation, its advanced wavetable synthesis capabilities, and a penchant for huge leads and bass, Massive soon became a the facto standard for a new wave of producers and sound designers seeking a distinguishable new sound beyond the tired legacy of classic analog synthesis.
Massive's synthesis engine is based on three oscillators with separate controls for wavetable position, pitch, and wave shaping. The sound generated by these oscillators gets filtered further down the line by two crossfaded, keytracked, multimode filters capable of serial and parallel routing.
The modulation section includes a set of advanced parametric envelopes that go beyond the primitive knob based envelopes of classic analog synths, with the addition of a time length control for each of the stages alongside the usual level control, plus the inclusion of a looped sustained section capable of morphing between pairs of predefined curves.
The LFOs present a host of similarly groundbreaking features starting with a big list of selectable curves and the possibility to crossfade between curve pairs, as well as a dedicated two stage internal envelope.
Massive was also one of the first synths to introduce a couple of sequenced modulators, one called Stepper, based on 16 switchable steps capable of randomisation, looping, and 12-tone grid snapping, and another one called Performer, with the addition of loadable custom curves per step.
Completing its feature set, Massive host of sound effects includes a dedicated EQ, plus two inserts with a big list of different types of modulation, distortion and spatial effects, as well as a pair of innovative spectral processors intended to shape the harmonic structure of the raw signal.
If you're interested in the powerful and groundbreaking possibilities that software interfaces can open up to in the field of advanced and futuristic digital sound design, you should give Massive a shot.

SUMMARY

So this is our brief list of top virtual synths of the last decade. A list of winners in terms of popularity and widespread use that reflects the rapid evolution of the last ten years in the field of virtual studio technology. We have an entire section dedicated to virtual synth presets, so feel free to check out the rest of them.